Fiduciary Management
What is Fiduciary Management?
Fiduciary Management is a holistic approach to investment governance. Trustees delegate day-to-day investment decision-making and implementation a Fiduciary Manager who:
Gives investment advice
Invests in diversified growth assets
Manages asset and liability risks
Changes the portfolio in-line with the scheme's journey plan
Selects and monitors investment managers
Uses its scale to minimise fees and costs
Reports regularly, pulling together the most important information
A Fiduciary Manager typically looks after all or most of a scheme's assets, acting as a single point of contact and accountability for Trustees. They also offer fiduciary advice to help clients in the UK meet their governance needs and objectives.
Why appoint a Fiduciary Manager?
Compared with traditional investment consulting arrangements, Fiduciary Management is:
Closer to governance experts' view of "best practice"
More focused on accountability for outcomes
Too often, pension trustees wear "two hats". They act as both non-executive and executive directors. They oversee strategy and make implementation decisions. This makes it harder to evaluate decisions after the fact. If the outcome of a decision is poor, was the strategy wrong? Or was it the implementation? Or both? These are tough questions for one group of decision-makers wearing two hats to ask themselves.
Use of an investment consultant who isn't accountable for outcomes (in law or in practice) can further muddy the governance waters. Meanwhile, a fiduciary manager will help you better predict, prepare for, and control the outcome of your decisions.
How does Fiduciary Management work?
Trustees continue to make the most important strategy decisions.
These decisions form the basis of the scheme's strategy, but they also define a Fiduciary Manager's mandate, including contractual terms and key performance indicators (KPIs).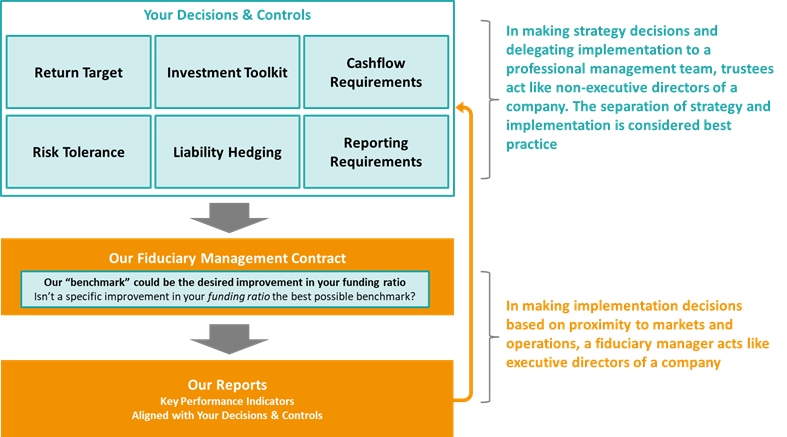 Some trustees worry that appointment of a Fiduciary Manager cedes too much control. By making the important strategy decisions, hard-coding KPIs in the fiduciary's contract and monitoring progress, the trustees would remain very much in control. We'd argue that the fiduciary management of assets enables trustees to spend more time on the issues for which they are best placed, such as long-term objectives, sponsor covenant, and member communications, among others.
Why Cardano?
Cardano is a purpose-built, privately owned Fiduciary Manager. This is what we do.
We are not an employee benefits consulting firm evolving into an investment manager. Nor are we a global investment manager offering lots of different products to clients with different needs.
Our approach to Fiduciary Management is differentiated in four ways:
1. Tailored advice
We provide best-in class advice to our fiduciary clients, consistently ranking first in independent surveys
2. Accountable partner
We are genuinely accountable to clients for the outcomes we deliver, and we're willing to link our fees to the improvement in their funding ratios
3. Dynamic in-house investment management
We manage clients' exposures actively, making frequent small "course corrections" to capture opportunities and avoid losses
4. No surprises
We construct portfolios using scenarios to prevent clients from being blown off-course