Joining forces with enthusiastic professionals, the IMC Weekendschool foundation prepares curious children for the future
Joining forces with enthusiastic professionals, the IMC Weekendschool foundation prepares curious children for the future
If children are given the opportunity to meet enthusiastic professionals from a variety of fields, they will gain the knowledge they need to become who they want to be. Based on this philosophy, the Dutch based IMC Weekendschool Foundation offers additional and enriching education to children from neighbourhoods with a crucial need for this for over twenty years. Cardano has supported this initiative since 2005.
The 180 employees and 7,000 volunteers are already well aware that children taking classes at the Weekendschool gain more confidence and have better prospects. In addition, recent, sound scientific research has shown that getting acquainted with the real world provides the Weekendschool children with a socioemotional growth spurt compared to children that do not take these classes, director Marion Weijman says. "This scientific monitoring is important to us, as little research is usually performed into these types of interventions. Now, a representative control group of primary school children were assessed, and they showed the magnificent results of our efforts".
Practical classes in groups 7 and 8
Due to the costs, the number of weekend schools hasn't increased. "Yet it is definitely our ambition to bring our concept to more children. We do so through our IMC Basis programme, which is a way to integrate our philosophy into primary education. We saw opportunities in this field, and received a request from the educational sector to develop a programme to realise this integration. For half a day each week, guest lecturers offer practical classes to groups 7 and 8. This two-year curriculum is currently offered at 37 primary schools, and this will increase to fifty next school year. There are a total of 350 primary schools in the Netherlands that meet our requirements for eligibility based on their student numbers and location. This makes IMC Basis our chief growth factor."
New insight into children and their development
The IMC Basis programme offers significant added value for teachers of groups 7 and 8, Weijman explains. "Those few hours with professionals from the practical field affect children for the remainder of the week, and offer them extra context. If the children attend a practical lesson on architecture, for example, teachers can integrate this into their math lessons, or use the professional jargon in dictation exercises. The teachers make these wonderful connections themselves. They are under extreme pressure, and do not have much time for preparation. Through our programmes, we take some of the workload away from them. Moreover, teachers start viewing their students in a completely different light. Children that are normally difficult to get involved in classes now show great interest. This leads to new insights into children and their development.
The mainstream system is very degree focussed
Weijman understands that it is difficult for schools to implement practical classes themselves. "The mainstream system is very degree focussed. The teachers are stuck in a system, and need to focus on the final attainment objectives. That gives them very little space to enhance their classes with extras. On top of that, it is very difficult for schools to change direction, while this is the ideal time to add 21st-century skills and themes like Citizenship to the educational programme. We help schools do so through our excellent, comprehensive and sustainable two-year programme."
Wonderful, sustainable connection
Cardano is one of the companies supporting the IMC Weekendschool foundation in the area of diversity & inclusion. "We share a beautiful, sustainable connection. Cardano has been involved in our Delfshaven location for many years. Several years ago, we opened a second location in Rotterdam-Zuid, the neighbourhood in the Netherlands that needs it most. Cardano immediately stepped up as one of the founding fathers of this location. We consider them an important partner. They always go the extra mile by doing things like organising a sports day or helping the children through one-on-one homework supervision. On top of that, Cardano employees are also involved in the management of our alumni network and our internships."
Motivated choices for the future
The IMC Weekendschool Foundation was founded in 1998 by psychologist Heleen Terwijn. She was studying the motivation of children in primary education in Amsterdam-Zuidoost. "She found that children were in school to 'learn for later', while nobody showed them what 'later' really was. This led to the idea to allow children to get acquainted with interesting jobs and professional fields with the help of enthusiastic guest teachers. These guest teachers tell the children about their profession, as well as their experiences and the choices they made in life. This way, their motivated attitude may spark the enthusiasm of the children. As a result, the children will gain a greater perspective and playfully prepare to make motivated choices for the future."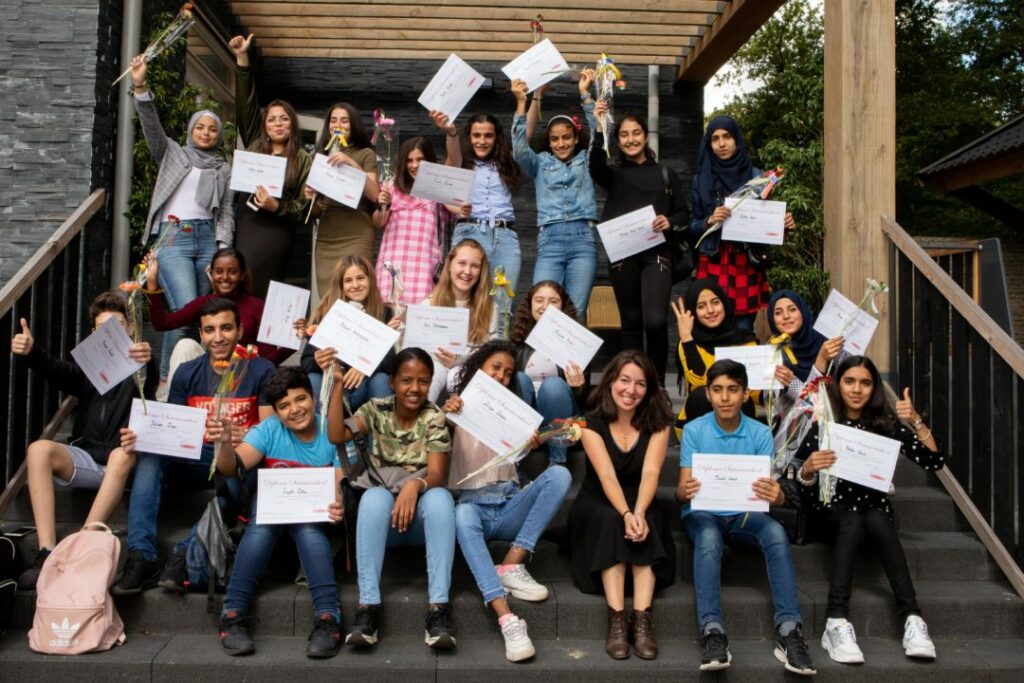 Number of students increases significantly
Through its four programmes, the IMC Weekendschool Foundation reaches over 3,000 students throughout the Netherlands each week. In the upcoming school year, this number will increase significantly. There are currently a total of 59 locations. After they gain their weekend school degree, students become part of the IMC Alumni programme (consisting of over 3,200 alumni). This programme allows them to continue their development and receive assistance or coaching for their decisions during their school and professional career. The oldest alumni are now in their thirties and act as teachers themselves, or contribute to society in some other way.