Are all roads leading to slowdown?
Ten years on from the global financial crisis indicators are pointing to a slowing global economy.  This cycle is already one of the longest on record – should we be fearing the next recession?
Macroeconomic data continues to reflect a global slowdown.  Manufacturing Purchasing Managers' Index surveys are now indicating a significant squeeze of industrial production outside of the United States.  This has resulted in global trade slowing sharply in December 2018 and January 2019.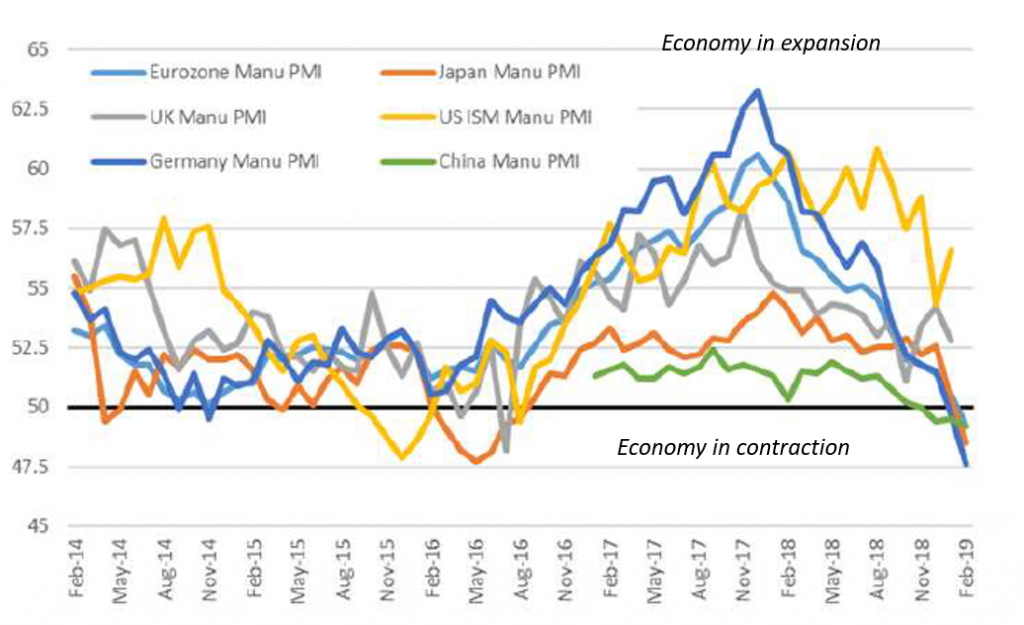 Preventing the inevitable?
As a result of this mounting evidence, policy makers are trying hard to extend the cycle.  Their stance has moved from hawkish to dovish in dramatic fashion. Many of the conditions today in Q1 2019 reflect a similar economic outlook to those in the same quarter three years ago.  In 2016, central banks were able to stimulate and extend a seven-year cycle by at least three more years.  Can they perform the same trick again?
The March Federal Reserve meeting implied that further rate hikes are unlikely and their balance sheet reduction policy will end in September.  US-China trade negotiations push forward, coinciding with news of significant stimulus from China in January.
Not too hot and not too cold; just right
The about-turn from central banks has resulted in equity markets performing strongly and bond yields remaining low.  These market conditions rhyme with 2016 and 2017.  Incoming economic data between now and the summer should tell us how successful central banks have been and the likelihood that this "Goldilocks" scenario for financial markets will persist into the future.