Integrated Risk Management
What is IRM?
Integrated Risk Management ("IRM") gives pension schemes a complete picture of all the risks they face. Risks that impact their ability to pay out benefits to their members.
The three most significant risks are Investment, Covenant and Demographic.
Each of these creates uncertainty around meeting your long-term funding goals. However, when these risks are viewed together, their inter-relatedness can make effective risk management challenging for Trustees.
What are the benefits of IRM?
By considering risks collectively, Trustees are better able to understand the total amount of risk being taken. When used well, IRM should provide a more robust framework for decision-making and help Trustees better respond to changing circumstances over time.
How we can help?
We believe an integrated risk management consultant should guide Trustees in setting and managing their journey plans (the path to achieve their funding objectives).
We help clients with a 4-step IRM approach:
1. Understand your position
Ask the questions: what is your current position? Where are you headed? What are your risks? How might these risks be inter-related?
2. Agree the long-term goal
Identify the objectives of your scheme by considering the extent to which the Trustees have visibility of future covenant strength and the views of the Trustees and Sponsor.
3. Determine the journey plan principles
Determine how the key risks will be balanced throughout the journey and which levers should be pulled to respond to changing circumstances and experience over time.
4. Set today's investment strategy and monitor
Agree an appropriate strategy for your near-term goals and circumstances.
House of IRM Series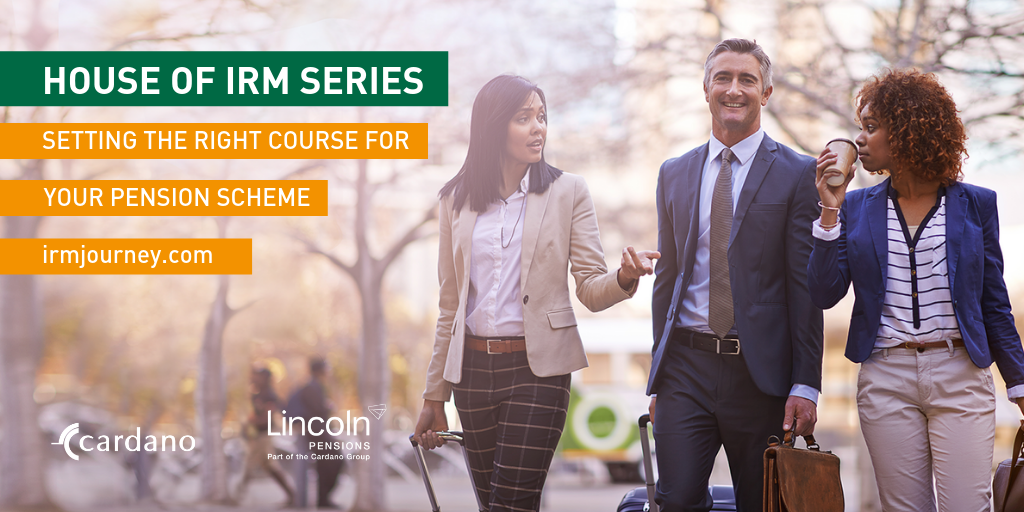 Together with Lincoln Pensions, we have developed Integrated Risk Management Programmes (IRM), tools, resources and ideas to help you navigate key phases of your scheme's journey successfully.  Click here to find out more.
PensionSim
PensionSim is our IRM simulation that allows you to experience real life scenarios and their impact on a pension scheme and its sponsor in a safe environment.  Watch the video to find out more.