How can trustees recession-proof their investment strategy?
Historically, periods of recession have not been kind to pension scheme funding levels. The most recent recession in the UK saw the aggregate funding ratio fall by around 10% between March 2008 and June 2009, on the PPF's s179 basis.
There are a number of tools that schemes can use to ramp up their recession protection and ensure that funding is more robust across the economic cycle.
Given the risk-management focus of pension scheme investment strategies, it is important to consider how schemes can protect themselves better through future downturns.
Thankfully, there are a number of tools that schemes can use to ramp up their recession protection and ensure that funding is more robust across the economic cycle.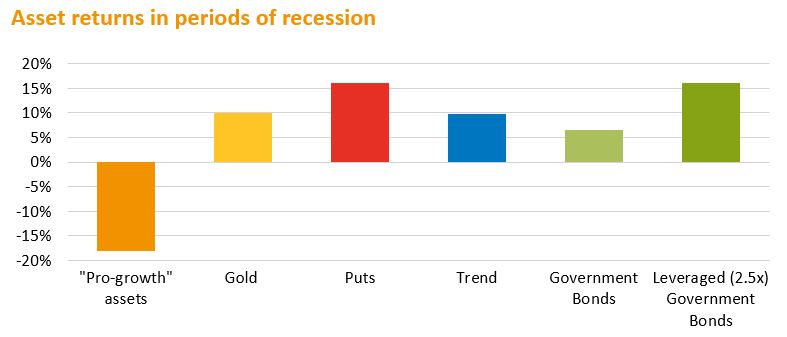 Returns shown are excess of cash (US T-Bill). Periods of recession in US as defined by National Bureau of Economic Research. Pro-growth assets: 50/50 composite of MSCI World Local Index and US High Yield Bond Index. global equities and credit. Gold: S&P GSCI Gold Index. Puts: S&P500 PutWrite Index. Trend: Newedge CTA Trend Index. Government bonds: US 10 year Treasuries.
Stress protection
Gold, which typically appreciates in challenging economic conditions on the back of safe haven flows, and equity options, which deliver known pay-outs for given movements in equity markets, can be deployed tactically by trustees to shore up defences. While attractive from a portfolio construction perspective, it is likely that these assets deliver a negative return over a full market cycle, so trustees must consider the timing of implementation within portfolios carefully.
Trading strategies
Certain trading strategies, most notably trend-followers, have historically shown attractive return streams in periods of economic uncertainty. Outright protection is certainly not guaranteed, however, and the impatient investor can be put off by prolonged periods of lacklustre returns in more benign market conditions.
Global government bonds
Global government bonds are consistent recession performers. While most trustees will be very familiar with using gilts to hedge liability risks, a globally diversified exposure to a range of robust government bonds (for example US, German, Canadian, Australian) can provide ballast to growth assets, alongside more "pro-cyclical" assets such as equities and credit.
Although they provide protection, most global government bonds offer pretty meagre yields, presenting the recession-conscious investor with a dilemma: either, hold lots of global government bonds (alongside other growth assets) to construct a robust growth portfolio but this would be at the expense of their return objectives, or hold a small number and these assets won't move the return needle in a recession relative to more volatile equities.
Getting the best of both worlds
There is a solution for trustees feeling caught between a rock and a hard place: gaining exposure to government bonds in leveraged form via common derivatives (namely futures) is the secret sauce of recession-proofing your growth assets. Derivatives offer a capital efficient way of gaining exposure to government bond returns, enabling trustees to achieve a material allocation without selling other, higher returning, growth assets. In the event of a recession, these assets help to offset losses arising from equities and credit. The result: a growth portfolio that is more robust across the economic cycle without compromising on returns.
What are the risks and how can they be managed?
As with all investment in derivatives, other risks are introduced and need to be handled.
The counterparty risk introduced should be carefully managed through wise counterparty selection and monitoring and through daily collateralisation / margining.
This collateralisation process can introduce further residual risks. Specifically the need to ensure sufficient liquid assets are available to post as collateral when required.
However, with continuous monitoring, robust stress testing and liquidity management, the risks presented by derivatives can be managed effectively – relegating primary investment risks to secondary operational concerns.
Be prepared
Pension schemes can protect themselves from the next recession and suffering falls in their funding levels. From gold to government bonds there are many instruments that trustees can shield their scheme if and when a recession hits.